· Home
· About Us
· Podcast Archive
· About Bettas
· Betta Health & Care
· Breeding Bettas
· Raising Spawns
· Genetics Study
· Tail Forms & Finnage
· Colors and Patterns
· The Halfmoon
· The Crowntail
· The Plakat
· The Doubletail
· Wild Bettas
· Betta of the Month
· Betta Critique
· Interviews
· Forum
· Betta Expressions
· Photo Gallery
· Games
· Mailing List/FAQ
· Strain Gallery
· NEW! This Month

Home > The Halfmoon > Some Thoughts on Breeding Halfmoons


Contact Us via Email

Send To Friend

Printer Friendly Version


Some Thoughts on Breeding Halfmoons
By: Faith Sisk
Submitted: 12/1/2005


Victoria Parnell's magnificent Brass Halfmoon. The tail is as close to perfect as you can get!


So you bought the best halfmoons you could find. Maybe you even went to a breeder whom you trusted to be sure to get sibling girls. Or maybe you bought the best you could regardless of breeder.

And the fry have super delta tails, or even rounded edges. Hmph. The few that might make the cut grow long anal fins and the dorsals go to fizzy twisty messes.

Welcome to the world of Halfmoons.

So you wrote the breeder or went on public forums, where they tell you only 10 percent of the spawns will be halfmoon regardless. Bummer.

Well, I'm here to tell you that you can sometimes expect 40 percent half moon in your spawns, and you can pick your breeders to greatly enhance your chances.

I am using photos of my own fish today and from the 1980's, photos from Victoria Parnell (by permission) and a few from Siamese Fighting Fish by Gene Lucas. Sometimes a picture says more than pages of written text.

Even with the best records, and careful attention to detail, you need to know where the betta fancy has been to understand what is happening now. Genes are funny things -- they can be invisible for generations until just the right pairing comes along.

The Older Tail Types

When I was showing in the eighties, the veilteil, often of stunning length, was beginning to give way to deltas. The concept was a guppy type tail; but also to have finnage the fish could carry without dragging it along.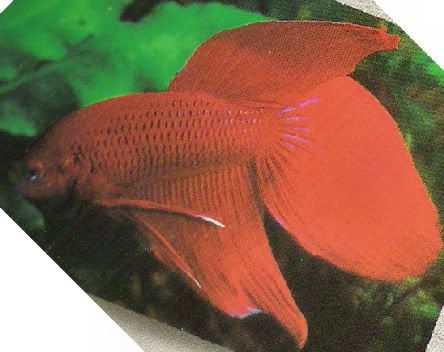 A red veilteil (from Siamese Fighting Fish, inner front cover)




Smoke and Fire butterfly from 1986-a District Show BIS fish. Obviously older here…but notice that his son is delta rather than veil (to the left.) Notice the wide dorsal, as well; this fish carried for DT.



The veil tail could be carried up, rather like a horse's tail, but was no where near the rounded, artistic ideal already being discussed in the IBC and exemplified by breeders such as Peter Goettner.

Other Problems -- Long Narrow Anal Fins Or Dorsals

Another major bugaboo was long anal fins, not the parallelogram called for. This always seemed to me to be a holdover not just from veiltail, but from the original wild betta, which often is pointed in the anal region.

Veil tail effect on the dorsal was to make it long and wispy, not rounded; the perfect shape at the time was called a "flame" shape. This too is a fairly dominant phenotype and you see dorsals to this day of this shape.

Doubletail

Doubletails have been a bane for many breeders and salvation for others. They don't just create 2 caudal areas; they greatly expand the dorsal. Once these fish were "worked" in different strains, they were often bred to singletails to keep their own bodies longer and not deformed, and hopefully giving the ST's bigger dorsals. This trait does seem to sort out fairly easily.

One other trait not often mentioned is an increase in the total number of rays, which can also translate to their ST offspring. A good DT even 20 years ago looked like it had "draperies". Increasing ray count (basic rays, not the branching rays talked about in most Halfmoon articles) is one key to getting perfect halfmoons.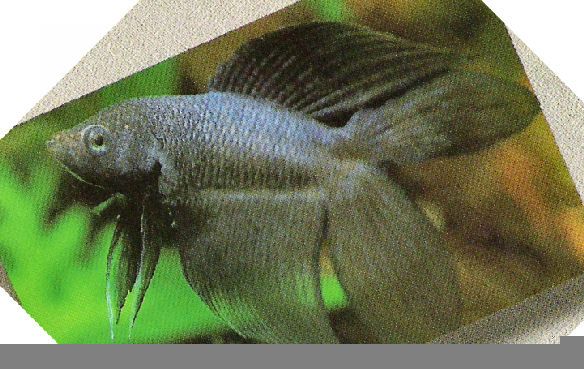 Melano DT a (from Siamese Fighting Fish, inner front cover)

Notice the symmetry and the actual effect of -- 2 veiltails!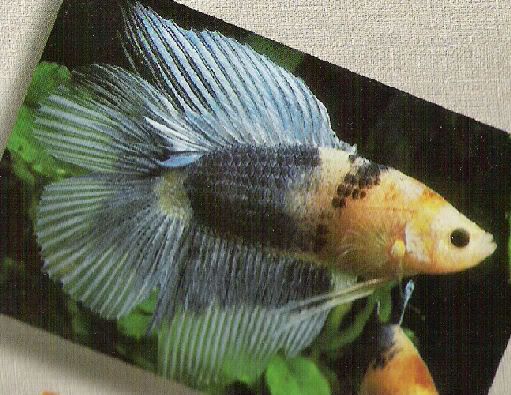 A more modern DT with better overall finnage, but having the shortened front rays on the dorsal. (from Siamese Fighting Fish, inner front cover)

The Round Tail

(Photo by Victoria Parnell)



I am not sure when round tails became the standard show fish. It fits easily with the IBC standard, it does improve the shortened and widened look of the fish, and it is relatively stable. Only in the past few years has the halfmoon become the standard for show fish!


Effect Of Plakat Fish On Halfmoon Strains

Some fish show definite plakat lineage, and it is one of the most popular crosses today. Improved ray strength and attitude are some of the reasons listed.

Some of the reasons not to use them include:
Shorter tails than desired
Pointed anal fins
Sometimes a tendency to the spade tail formation (longer; fuller in middle of anal fin)
Rounded dorsals instead of having a point.



This youngster kept a more shortened tail even into adulthood. No known plakat in the background though there was some Thai breeding many generations back. Notice also that the half moon shape is not perfect; it has rounded edges top and bottom.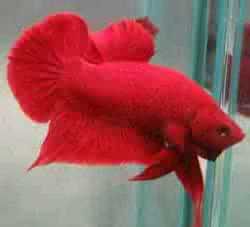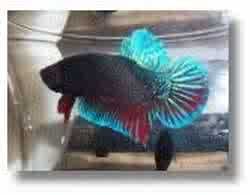 Two pretty modern show type plakats (pictures by Dong2002 and Preecha) notice even with great branching, the slightly rounded edges top and bottom. Also notice the longer back edge to the anal fin.



Rosetail

Many are breeding and writing about, the frilly, many-branched rosetails. (Excess branching, splitting, and webbing that creates a folded or frilly effect) A good one is truly impressive. Get too much of the rosetail factor and you get into deformities-fish that can't carry the finnage, shortened bodies, missing scales.



Copper melano owned by me. Photo by Victoria Parnell, his breeder



A blue multi son; I chose to use non rosetail HM stock heavy on DT influence, but related to the dad. We got both the heavy flat finnage and rosetail. A black rosetail (moderate) brother and blue sister, HM were bred and their offspring are about to be spawned!




Coppers

The coppers give us an interesting look at how different genotypes play into your breeding program.

This is the line of coppers I chose to work with. Actually, I re-purchased more out of this line 2 gen down the road in Jim's program, knowing I would in fact produce doubletails!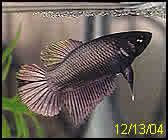 Jim Sonnier's purple line (copper). Photo by Jim Sonnier.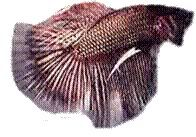 Her son, owned by me. Photo by Jim Sonnier. Notice I chose the flat, drapery kind of fin vs. rosetail type. This line was bred to a blue of HM lineage carrying DT.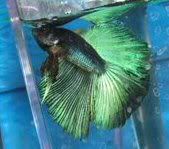 His son. Many of these fish had extra rays on top of the tail-rudimentary doubletail? The best of them had the heavy drapery kind of fins-not so much branching just tremendous rays and webbing in between.




Coppers were bred into many types of fish in the East. One form often seen is sold as "copper imbellis." Many are of extreme blocky or thick bodied fish; some of the fighting lines of Thailand have this shape.

This gives you 2 problems-thick unwieldy bodies and reversion to wild type fins-often seen in excessive anal fin length.


Coppers, being popular, give us a real "look see" into what is behind the HM fish of today.

Water Quality

Another area not discussed enough is water quality. I knew people who suctioned out excess food after every meal and changed water 100 percent every couple of days, and that was with veiltails, which do seem hardier than halfmoons in keeping finnage. Might I add, no one had automatic water systems either! Personally, I used gallon jars and changed water twice a week, and the fish did fine.

My point here is-if you flubbed the "water test" your fish could be carrying more of the genetic material you are looking for and you might not know it.


Having A Program -- Keeping Records

Even if it just listing spawns and parents background, you need to keep track of every spawn. Just breeding a fish to a fish will not give you the insight as to what the fish produce, or let you inbreed to "set traits" (make the genetic background more homozygous.) making a note as to faults and strengths of each spawn can help you choose the next breeders to try to avoid the weak spots.


So What's The Point?

Everyone showing today "bred up" to halfmoons.

That is, unless they simply bought halfmoon stock when it became available, they had to use what fish they had and what halfmoons they could purchase and begin to breed for the trait. If they had maintained the superdelta tails, they were way ahead in the battle. If they had roundtails…well, it is a trait that tends to be stable. To this day, our potential halfmoons often have rounded caudal edges (Or look at it this way; shorter rays on top and bottom graduating outward, giving a round form)
I like roundtails. If you want roundtails, by all means breed them. But if you want halfmoons, you will need to be harsh with culling to rid your strain of roundtail characteristics.

If the stories are true, the original halfmoon strain was even bred to pet store bettas. Meaning-you got it-veiltail characteristics can still show up.

If you use plakat, be aware that the "wild form" is sitting right behind them (and they have been bred as fighters for centuries, making them very homozygous; if they carry even one bad trait you will be stuck with it in your line)

By looking at your breeding stock, or asking the breeders behind your stock, you should be able to glean what traits might still lurk in the background and slow you up in the quest to breed perfect halfmoons.

If you do not use absolute straight edges on the caudal, and all the way out to proper length ( forming that D shape), regardless of spread, you will never get that full, straight edged tail you are looking for.

Go easy on the rosetail. I realize I am going against the grain by saying excessive is not better. But I do feel the doubletail infusion into properly conformed ST lines will give you halfmoons without the apparent negative traits now showing up in rosetail lines. I said go easy --not ignore it. When you are getting OHM, you can obsessively count how many splits in the rays there are to your heart's content. But ignoring the webbing in favor of ray branching could be a false path.

Females are another area often overlooked. It is not enough that she is of halfmoon lineage. You need the tail to be straight edged (this is sometimes referred to as HMX); I'd take a superdelta of proper tail type over a rounded half moon any day.

So there you have it-clean water good food and fish that are related and have particular traits. Easy, right?



Source: Champion Bettas Contest Thread


Category: The Halfmoon


Contact Us via Email
Send To Friend
Printer Friendly Version
What's Your Opinion?
Post your 2 cents here. Let us and your fellow readers hear your views on the articles we have here at bettysplendens.com. Your posts will appear on the front page along with a link to this article. It helps everyone participate in the conversations such posts generate.
Featured
.
HEJSAN FROM SWEDEN EVERYONE! Everything in Sweden is going well, although I'm still busy learning the language and coping with a newborn, so it will be a bit before I'm as active as I'd like with the fish. This is a Facebook update! I have created a new BettySplendens Facebook page that will be used exclusively for betta-related networking. On the 16th of August I will be going through and deleting most of the people on my personal Facebook page who are not actual friends or family (many of you have become friends through the course of the hobby, and of course will not be deleted). If for any reason you wish to remain on my personal page, please let me know by emailing bettysplendens@yahoo.com, or FB email. Otherwise, go to the new BettySplendens Facebook page and click the 'like' button for more betta-related news and updates :).

Tack så mycket (that's ''Thank you very much'' in Svenskie-land ;))! ~Victoria~

Slight change of plans! I have decided that, instead of reinventing the wheel, I'm going to create a personal FB page and use the old one purely for betta stuff. So if you're on the original page (now called BettySplendens Bettas), please stay put! :P

For all the betta inquiries:
Just a reminder, I am not selling bettas in the US at the present time. I may begin to supply a few select bettas throughout Europe sometime in late Spring 2011. Cheers!

Spotting the Orange Dalmatian
Ever since it first started being widely seen in pet stores around late 2004, the spotted orange betta has taken the hobby by storm. But what exactly is it?

Finnage Variations
Bettas today come in a wide variety of forms, and new ones are being created all the time. Here are the most popular.

Choosing a Betta
There are basically three ways of purchasing bettas. Buying them from a pet store, buying them from a breeder, or buying them online. I'll run through some important things to consider in each of those options.

The True Story of the Halfmoon
The true story of the creation of the Halfmoon betta.

Defining a Good Crowntail
For the purpose of showing in the CT class, Crowntails are defined as bettas exhibiting at least 33% reduction in webbing versus ray length in each of the three primary fins (caudal, anal and dorsal). This requirement must be demonstrated in all three primary fins but does not need to be exhibited between all rays to meet the minimum requirement to be classified as a Crowntail betta.

Bringing Home Your New Betta
Buy a Betta at a pet store? Find out how to best introduce him to his new home.


© 2013 Victoria Parnell. All Rights Reserved. All Logos and Trademarks are property of their respective owners. Powered By The Alfred Web Publishing System v3.1