· Home
· About Us
· Podcast Archive
· About Bettas
· Betta Health & Care
· Breeding Bettas
· Raising Spawns
· Genetics Study
· Tail Forms & Finnage
· Colors and Patterns
· The Halfmoon
· The Crowntail
· The Plakat
· The Doubletail
· Wild Bettas
· Betta of the Month
· Betta Critique
· Interviews
· Forum
· Betta Expressions
· Photo Gallery
· Games
· Mailing List/FAQ
· Strain Gallery
· NEW! This Month

Home > Tail Forms & Finnage > Female Tail Types


Contact Us via Email

Send To Friend

Printer Friendly Version


Female Tail Types
By: Victoria Parnell
Submitted: 9/14/2005



Female tail types are one of those things in this hobby that are just plain confusing, both for newcomers and veterans alike. Merchants selling on Aquabid often further complicate matters by suggesting singletail females from HM spawns and HM females are synonymous, or marketing a veiltail female as a HM simply because she base of her caudal can reach 180 degrees when the fish is fully flared. Hopefully this article can clarify some of this.



Let's start with the

HALFMOON FEMALE

: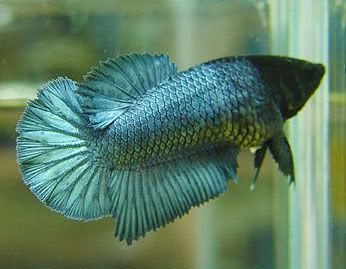 Although you'll find many supposed 'HM Females' for sale for excellent prices, most of these are actually normal singletailed females which (may or may not!) come from HM spawns. The true Halfmoon female is phenotypically held to the same standard as the Halfmoon male, i.e. 180 degree caudal spread with sharp edges and an appearance of symmetry in all three unpaired fins. Every HM female I've seen also has more than secondary branching in the caudal fin, with many of them having quaternary and more branching. The true HM female is a powerful ally in your fishroom if you are breeding for HM, because she will usually produce a large percentage of true HM offspring when paired with a male of equal quality. For this reason, most breeders are loathe to part with them.
Some examples of true HM females with 180 degree caudal fins:
Halfmoon Females
Even if you are advanced enough to know the difference between a true HM female and a common Singletailed female, you may still be fooled by this doppelganger: The

SUPER DELTA FEMALE

:

Super Delta Female


Super Delta Tailed females are as common as Super Delta Tailed males from HM spawns, and, like SDT males, they have nice sharp edges, good spreads, and usually very decent branching and symmetry. However, if the tail span does not reach a full 180 degrees, they are not HM females. A span of about 150-170 degrees defines most SDT females. These females can often be had reasonably, and make excellent breeding stock, especially when using a Rosetail or OHM male.

Slightly less in degree of spread than the Super Delta Tail is the DELTA TAILED FEMALE: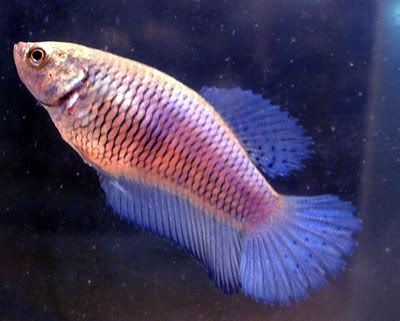 Delta Tailed Female
The true Delta Tailed female does have some branching and possesses straight caudal edges; however, in these cases the spread is usually under 150 degrees. Its appearance is defined the same way as the delta-tailed guppy, from which it takes its name; that is, an almost triangular shaped tail with a blunt base.

It really can't be disputed that the most common female tail type available in the modern forms is the plain-Jane SINGLETAIL FEMALE: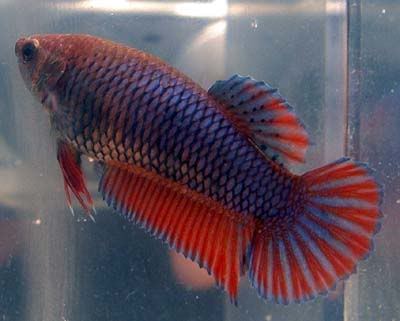 Singletailed bicolor female
The Singletailed female is basically any longfinned, non fringe-finned betta that is NOT a doubletail, delta tail, super delta tail, or halfmoon. In fact, the term can be applied to any female that possesses one caudal (as opposed to the twin caudals of the DT) and is the correct term for these females without making the distinction between modern show type and traditional. However, although the term is versatile and can be used ambiguously, it makes for less confusion if the description is more succinct: CROWNTAIL STF, PLAKAT STF, et al. The difference between a singletail female from HM lines and a delta, super delta, or HM female is that the latter three have straight caudal edges and sharper corners. Regular singletailed females have a rounded appearance to their caudal.

Here are some examples of Singletailed females:

Examples of Singletailed Females
Beyond a doubt, the easiest female tail type to identify is the DOUBLETAIL FEMALE:
Like the DTM, the DTF has two caudal lobes as opposed to one and an increased dorsal fin. A DTF is called just that -- a doubletailed female -- regardless of quality or breeding, as long as she possesses the two distinct caudal lobes. Doubletailed females bring excellent traits to the table when working them into a ST line, such as increased dorsal width and fin volume, however because they are available in anything from veiltail to plakat, you want to make sure your DTF comes from a Halfmoon family before using her in your HM line. By the same token, if your goal is DT plakats, make sure your DTF is a plakat female and not a longfin.
More examples of Doubletail females: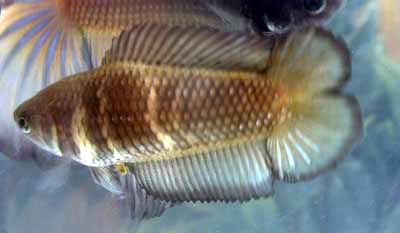 Examples of Doubletail females
Although Crowntail males are quite easy to differentiate from non fringe-finned males, sometimes identifying CROWNTAIL FEMALES can be tricky. The obvious trait to look for is the ray extensions; however since some non-fringe finned females also have a bit of exaggeration in the ray extensions (it is a naturally occuring trait that was able to be selectively bred into the Crowntail fin type), it can be an imperfect science. Good crowntail females will actually have the fringe-finned effect with reduced webbing in all three unpaired fins. The look has been compared to eyelashes:


Female crowntails



Telling a PLAKAT FEMALE apart from a longfinned female of any variety is a task worthy of a medal. Even hobbyists who have been involved with bettas for years and years have trouble with this one sometimes, and I won't pretend to have any magical tips to identify this one correctly every time. It's always going to be guesswork, but with a little information, it can be reasonably accurate guesswork.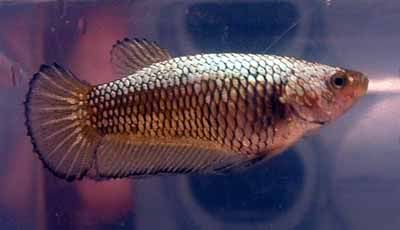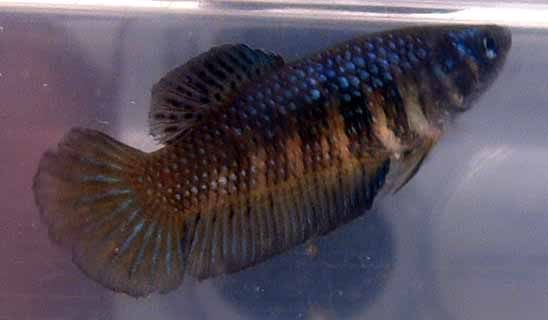 First, I wouldn't even recommend trying this one until the fish reach maturity. If you use plakat to help strengthen the fin rays of your longfin lines, as I do, then you are going to eventually have some mixed spawns of longfin and plakat and will have to try to tell the females apart. Unfortunately, all females look alike when they're only an inch or so long. However, once they are fully-grown, little differences appear. Longfinned females have longer, pointier fins than their plakat sisters, rounder, shorter bodies, and tend to be a bit less aggressive. Looking at the photos above and comparing them with the photos of the non-plakat females, you can see the more streamlined bodies and shorter, perter fins of the plakat female. Although this probably won't help you until it's too late, plakat females are also notoriously difficult to keep in their jars. They're among the hobby's finest jumpers!

Last but not least is the female tail type that causes the most misguided hope...the VEILTAIL FEMALE:

Veiltail female, photographer unknown. If you are the photographer, please email me so I can give you credit!
Why 'Misguided hope'? Because I have had countless emails from others in the hobby, usually newcomers, who tell me they think they found a HM female at their local fish store because the fish can spread to 180 degrees in the caudal when fully flared. I find myself in the position of having to shoot their enthusiasm down time after time by explaining that the odds are stacked the female is a veiltail in spite of her increased spread. So why aren't they considered Halfmoons?

The 180 degree spread is another naturally-occurring phenomenon in wild bettas, and in traditional plakats it is considered the ideal. The difference between true Halfmoons and a shortfinned betta (such as a plakat or a female) with the 180 spread is this: A true Halfmoon can hold the form when the fins are lengthened, usually because of a combination of fin rays, upbringing, and genetic shape of the tail. The finnage of a wild betta, traditional plakat, or female veiltail would droop into the typical 'veil' shape if the fins were lengthened, and only appear the hold the form as long as the finnage remains short. Although they can be hard to tell apart from other females, veiltail females never have more than secondary branching in the caudal, and usually have a more rounded appearance. The more difficult task is differentiating a veiltail female from a singletailed female from show lines which also has no more than secondary branching in the caudal. For example, female roundtails and female veiltails can look almost identical! It is important to know the genetics of your fish before using it in your breeding lines.

Here are some examples of veiltail females that even a veteran would be hard-pressed to identify: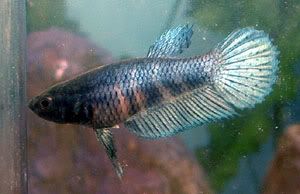 Here's a particularly good-looking Veiltail female that one might be tempted to use in their breeding program. But watch out! Veiltail is a dominant trait, and this little lady would throw you about a hundred steps backwards:

So hopefully this helps you in identifying, not only your own females, but those you plan on purchasing. I've seen experienced and well-known breeders make the mistake of crossing an inappropriate female to a very good male and then wondering what went wrong with the spawn, so don't feel bad if it takes some practice to identify the tail types by sight. Don't believe every sales listing you read, and, whenever possible, try to buy directly from the breeder. It saves a lot of hassle later on!
Category: Tail Forms & Finnage


Contact Us via Email
Send To Friend
Printer Friendly Version
What's Your Opinion?
Post your 2 cents here. Let us and your fellow readers hear your views on the articles we have here at bettysplendens.com. Your posts will appear on the front page along with a link to this article. It helps everyone participate in the conversations such posts generate.
Featured
.
HEJSAN FROM SWEDEN EVERYONE! Everything in Sweden is going well, although I'm still busy learning the language and coping with a newborn, so it will be a bit before I'm as active as I'd like with the fish. This is a Facebook update! I have created a new BettySplendens Facebook page that will be used exclusively for betta-related networking. On the 16th of August I will be going through and deleting most of the people on my personal Facebook page who are not actual friends or family (many of you have become friends through the course of the hobby, and of course will not be deleted). If for any reason you wish to remain on my personal page, please let me know by emailing bettysplendens@yahoo.com, or FB email. Otherwise, go to the new BettySplendens Facebook page and click the 'like' button for more betta-related news and updates :).

Tack så mycket (that's ''Thank you very much'' in Svenskie-land ;))! ~Victoria~

Slight change of plans! I have decided that, instead of reinventing the wheel, I'm going to create a personal FB page and use the old one purely for betta stuff. So if you're on the original page (now called BettySplendens Bettas), please stay put! :P

For all the betta inquiries:
Just a reminder, I am not selling bettas in the US at the present time. I may begin to supply a few select bettas throughout Europe sometime in late Spring 2011. Cheers!

Spotting the Orange Dalmatian
Ever since it first started being widely seen in pet stores around late 2004, the spotted orange betta has taken the hobby by storm. But what exactly is it?

Finnage Variations
Bettas today come in a wide variety of forms, and new ones are being created all the time. Here are the most popular.

Choosing a Betta
There are basically three ways of purchasing bettas. Buying them from a pet store, buying them from a breeder, or buying them online. I'll run through some important things to consider in each of those options.

The True Story of the Halfmoon
The true story of the creation of the Halfmoon betta.

Defining a Good Crowntail
For the purpose of showing in the CT class, Crowntails are defined as bettas exhibiting at least 33% reduction in webbing versus ray length in each of the three primary fins (caudal, anal and dorsal). This requirement must be demonstrated in all three primary fins but does not need to be exhibited between all rays to meet the minimum requirement to be classified as a Crowntail betta.

Bringing Home Your New Betta
Buy a Betta at a pet store? Find out how to best introduce him to his new home.


© 2013 Victoria Parnell. All Rights Reserved. All Logos and Trademarks are property of their respective owners. Powered By The Alfred Web Publishing System v3.1