· Home
· About Us
· Podcast Archive
· About Bettas
· Betta Health & Care
· Breeding Bettas
· Raising Spawns
· Genetics Study
· Tail Forms & Finnage
· Colors and Patterns
· The Halfmoon
· The Crowntail
· The Plakat
· The Doubletail
· Wild Bettas
· Betta of the Month
· Betta Critique
· Interviews
· Forum
· Betta Expressions
· Photo Gallery
· Games
· Mailing List/FAQ
· Strain Gallery
· NEW! This Month

Home > About Us > About Betty Splendens


Contact Us via Email

Send To Friend

Printer Friendly Version


About Betty Splendens
By: BettySplendens
Submitted: 9/15/2003


Victoria Parnell Stark
BettySplendens breeds and raises thousands of fish a year in the rented top floor of a commercial building, where we have dozens of spawning tubs, growout tubs, indoor ponds, tanks and a drip system for our breeders kept up and running. Fish are put into gallon jars as they reach adolescence and receive twice weekly water changes. Once or twice a month I get up, grab some shipping bags and a large styrofoam cooler, and head over to 'The Hatchery' to go through all sales age fish and decide who I am keeping, who I'm donating to the pet store, or who I'm selling from this website. The sales fish are then packed up and taken to my home,where it is more convenient for me to photograph them and ship them after they are sold.

I sell bettas to cover the cost of the fishroom, which has its own electric bill, rent, and water, and the thousands of bettas that require feeding and care. I make very little profit off the sales of bettas; in fact, I am lucky to break even most of the time. I'm in this hobby because I love bettas, pure and simple.Bettysplendens is a hobby, not a business, and I feel fortunate to have a medium such as this website to share my passion with other betta enthusiasts. 

Around the tail end of 2005 I made the decision to take a temporary break from the hobby due to circumstances out of my control. There were just too many commitments needing my attention, and the fish were the ones suffering for it. I disbursed my breeding stock among trusted friends and fellow enthusiasts and shut down the operation while I straightened the affairs in my personal life.

In 2008 things finally settled enough where I had time to devote to the hobby again,and I was lucky to find that several of my lines were still going strong in the fish rooms of my friends. I was luckier still that so many of them were willing to part with good breeding fish from these lines so I could continue to raise the same bloodstock I'd been working for the past 10+ years.




About the Fishroom

:

If fishrooms represent the personalities of their owners, then mine is an accurate jumble of tanks and jars, boxes and tubs, whosits and whatsits and oddly-shaped bits of piping that I no longer remember the origins of. Bettas are usually spawned in 5-10 gallon aquariums or smaller plastic tubs. I generally keep my fishroom pretty dark, but when spawning time comes, I fill the chosen container with live java moss from a well-established tank and a few Indian Almond leaves and keep it under bright light at least 12 hours a day for no fewer than 5 days. After that, I shut off the light and introduce the pair. Males build their nests under the leaf, under a half-cut styrofoam cup, or under a small square of bubblewrap. I've also found that Pringles container lids work well for nest sites. The pair are left together from 3-5 days, and by this time there are usually eggs under the nest. Then the female is removed and the male left to tend the eggs and fry. In most of my spawnings, he remains with his offspring for at least a month.

For growouts I use 20-75 gallon tanks with filters, but I am just as apt to use large 50g tote tubs with no filtration, but twice weekly water changes. It really depends on what is available.



Growout tanks



Plastic tubs



Adults are kept in an automatic drip system which constantly channels aged, filtered water up and into each individual betta container, where it then drains and returns to be filtered in the reservoir. A u/v sterilizer is used to help minimize the spread of disease.



Automatic drip system

Young fish go into half-gallon to gallon sized jars as soon as they start getting nippy, and there they stay until they are old enough to be sorted into KEEP fish and SALES fish. The keepers go into the drip system and the sales fish are moved into smaller boxes with every-other-day 100% water changes. They remain here until they go to their new homes. This is why I don't like to keep fish on hold for longer than a week, these containers make pretty poor longterm homes for bettas.



Gallon jars and sales age fish awaiting purchase

Fish are shipped every week from Mon-Wed to reduce the risk of weekend delays. Each fish is examined carefully prior to packaging to make sure they are in good health and free of any obvious injury or disease. They are double-bagged in seamless 4-ply fish bags, individually wrapped in newspaper, and packed in insulated shipping boxes (styrofoam coolers or cardboard boxes with foam inserts).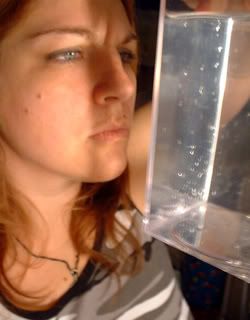 Each fish is examined carefully prior to shipment





About Me:

I first started keeping bettas when I was 11 years old, veiltails I was able to get from our local pet store. One day the owners showed me a new shipment of females that had recently arrived, and I was instantly intrigued. I had never seen a female betta before, but many of the aquarium fish books I had read described themas 'nondescript', 'plain', and 'brownish-red'. These females were brilliant blues, reds, multicolors, and even a cambodian. I brought three of them home with me, and at the same time purchased Walt Maurus's book Bettas: A Complete Introduction. Within a week the book was well-worn and dog-eared, easily falling open at my favourite pages: The photo of an extended red doubletail, a pair of bettas circling for an embrace, and the chapter on spawning bettas.I had to try it! I'll never forget the thrill of that first spawn, and I raced home from school every afternoon for 2 days just to see if the eggs had hatched yet. When I finally did see the tiny tails hanging from the nest, I knew I was hooked.

The contact information for the International Betta Congress was in the back of Walt's book, so I immediately signed on as a junior member and started raising blacks, butterflies, doubletails, and marbles. Back then, the doubletail betta was the hottest thing around, and you never heard about the Halfmoon (although it had been developed a couple of years before).

As time went on I got distracted by my horses (another passion), high school, and growing up and cut way back on the bettas. I still kept a couple of lines going, but I just didn't have the time to change hundreds of jars every day anymore. I let my IBC membership expire, and, in its natural progression, I moved on to dating, career,and a brief stint as a (ahem) "rock star", and didn't have the time or resources to get back into the fish heavily until I had settled down and gone to seed!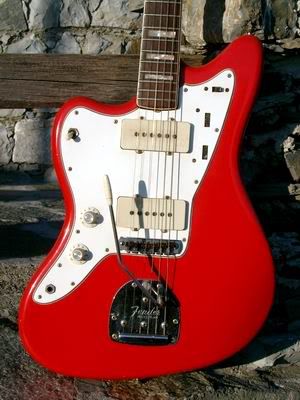 My two other passions, Fender guitars and jousting


I started slowly at first, getting back into contact with my old IBC friends who supplied me with new starter stock. I was amazed at some of the new colors and lines that had been developed in my absence, and found myself getting hooked all over again. One of my breeder friends started telling me about the 'new' Halfmoon form with it's 180 degree angle and perfect symmetry, and sent me a photo. I was blown away by the way the fish looked, and started studying the history of the Halfmoon; who created it and how, what factors contributed to it's appearance, and more. I wrote a lot of emails and asked a lot of questions. It seems that the beautiful Halfmoon form wasn't a simple Mendelian trait, but a phenotype that required the hand of an artist to produce with any regularity. You needed the right parents, the right conditions, the right food, and the right exercise. I was like a woman possessed.

Some time later,I rejoined the International Betta Congress and was impressed by the fact that the IBC was now, truly, an international organization, with members as far away as Norway and Singapore. The great medium of the internet had brought us all closer together, and good bettas were being produced en masse in Asia and sold in the US at affordable prices. I imported some good solid green HMs from Thailand and was able to get some nice extended red stock from Americans Mark Milliken, Sieg Illig and Pete Goettner, which I outcrossed to Asian stock to produce the Inferno red line I am still working today.

The website came into existence when our company began developing an Administrative software module for small business use. We needed a working prototype to show to clients, so I used the software to create the Betty Splendens website. Bettas were an ideal way to put the software through it's paces, with colorful photos, articles, files, and more. Because they were an obsession for me, I had a ridiculous amount of fun writing the articles based on my own studies and experiments and taking the photos. New features were added almost weekly as I got ideas for them. As time went on, some of these were discarded, others elaborated upon, until we had the website as it is today. I started selling my excess stock from the site, and as the site gained popularity and the bettas sold faster than I could breed them, I was encouraged to expand the fishroom and breed more and better bettas.

Some breeders breed for color, others for finnage. I'm always intrigued by the ones that concentrate on color,because some amazing things have been produced by them. Jude Als created the 'Mustard Gas' betta, Chok Pengdit has come a long way with his 'Suthasine Golds', and I've always been fascinated with the black/yellows, black/orange marbles and more that come out of Marianne Lewis's projects.

I, however, am a finnage breeder. As beautiful as a color was, it never looked right to me unless it was also combined with my 'ideal', the HM form. I bred, and still do breed, for finnage in my lines, looking for good edges, lots of branching, and extended dorsals. As a result I got a very high percentage of true HM fish from my spawns, and from these I could start outcrossing and trying to develop more unusual colors and patterns, such as 'Brass' (copper body, red fins), 'Patriot' (blue marble with red/white/blue triband), and others. That way I could still create unique colors without compromising the finnage.

In addition to bettas, I enjoy drawing, competitive jousting, Fender© guitars, writing, MMORPGs, and travel (among many, many other things).

Please enjoy the website, and feel free to drop me a line if there's anything you'd like to see here, or just to say hello. ;)

Victoria

EMAIL

bettysplendens@gmail.com  (<--- checked about once a week)
bettysplendens@yahoo.com

(<-- checked daily)



If you sent an email and didn't hear back from me, please try sending to a different address! I always try to answer all of my email, even if it takes awhile. If you never get an answer, chances are your email wasn't received. :-/


Messengers

AIM: BettySplendens
MSN: bettysplendens@yahoo.com



Paypal

bettysplendens@yahoo.com
Category: About Us


Contact Us via Email
Send To Friend
Printer Friendly Version
What's Your Opinion?
Post your 2 cents here. Let us and your fellow readers hear your views on the articles we have here at bettysplendens.com. Your posts will appear on the front page along with a link to this article. It helps everyone participate in the conversations such posts generate.
Featured
.
HEJSAN FROM SWEDEN EVERYONE! Everything in Sweden is going well, although I'm still busy learning the language and coping with a newborn, so it will be a bit before I'm as active as I'd like with the fish. This is a Facebook update! I have created a new BettySplendens Facebook page that will be used exclusively for betta-related networking. On the 16th of August I will be going through and deleting most of the people on my personal Facebook page who are not actual friends or family (many of you have become friends through the course of the hobby, and of course will not be deleted). If for any reason you wish to remain on my personal page, please let me know by emailing bettysplendens@yahoo.com, or FB email. Otherwise, go to the new BettySplendens Facebook page and click the 'like' button for more betta-related news and updates :).

Tack så mycket (that's ''Thank you very much'' in Svenskie-land ;))! ~Victoria~

Slight change of plans! I have decided that, instead of reinventing the wheel, I'm going to create a personal FB page and use the old one purely for betta stuff. So if you're on the original page (now called BettySplendens Bettas), please stay put! :P

For all the betta inquiries:
Just a reminder, I am not selling bettas in the US at the present time. I may begin to supply a few select bettas throughout Europe sometime in late Spring 2011. Cheers!

Spotting the Orange Dalmatian
Ever since it first started being widely seen in pet stores around late 2004, the spotted orange betta has taken the hobby by storm. But what exactly is it?

Finnage Variations
Bettas today come in a wide variety of forms, and new ones are being created all the time. Here are the most popular.

Choosing a Betta
There are basically three ways of purchasing bettas. Buying them from a pet store, buying them from a breeder, or buying them online. I'll run through some important things to consider in each of those options.

The True Story of the Halfmoon
The true story of the creation of the Halfmoon betta.

Defining a Good Crowntail
For the purpose of showing in the CT class, Crowntails are defined as bettas exhibiting at least 33% reduction in webbing versus ray length in each of the three primary fins (caudal, anal and dorsal). This requirement must be demonstrated in all three primary fins but does not need to be exhibited between all rays to meet the minimum requirement to be classified as a Crowntail betta.

Bringing Home Your New Betta
Buy a Betta at a pet store? Find out how to best introduce him to his new home.


© 2013 Victoria Parnell. All Rights Reserved. All Logos and Trademarks are property of their respective owners. Powered By The Alfred Web Publishing System v3.1